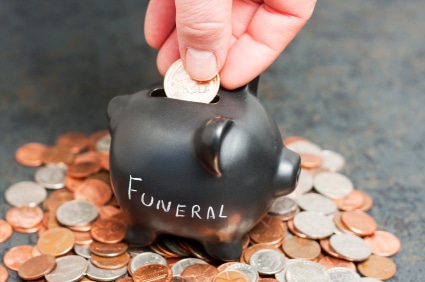 Help with costs
The cost of a funeral has risen dramatically in recent years. If you or your partner are on a low income and receiving any of the following benefits you may be eligible for a Funeral Payment from the Social Fund:
Income Support
Income based Job Seekers Allowance
Income related Employment and Support Allowance
Pension Credit
Housing Benefit
Council Tax Benefit
Working Tax Credit
Child Tax Credit
A Funeral Payment from the Social Fund currently covers burial or cremation fees, certain other specified expenses and up to £700 for other expenses such as funeral director fees, a coffin or flowers.
Click here to open the Direct.Gov website for more information about Funeral Payments.
NB Please note that if you are eligible for assistance from the Social Fund and you are choosing to care for the person who has died at home, and making all the arrangements for the funeral yourself, you can make a request to JobCentre Plus that this payment be made directly to you – we would suggest that you ask for information about this payment to be clearly explained to you.
If your husband, wife or civil partner has died, you may be able to get Bereavement Payment, a one-off, lump sum payment that is tax free (currently £2,000)
Click here to open the Direct.Gov website for more information about Bereavement Payments.
There is no law requiring that you use a funeral director
Many people contact us to find out about carrying out a funeral themselves.
This is perfectly possible as long as there are family and friends to carry out the process, and we are always happy to give advice and assistance to families contemplating a DIY funeral.
Some funeral directors will be happy to help with just the aspects that might be difficult for an individual family, such as keeping the body of the person who died cool, or completing necessary paperwork.
Find out more here
Making choices
Funeral directors say that the funeral costs are purely dictated by the choices families make and they justify their charges by explaining about the overheads their businesses have.
But hundreds of people who contact the Natural Death Centre every year express their wish to avoid a 'Äòtraditional black funeral'' and the associated expenses. We get calls from frustrated families who have had 'Äòpackages'' offered to them containing services that they don''t need or want.
Firstly we would like to acknowledge that many funeral directors are fantastic people offering crucial support to families at difficult times and they need to charge fees that realistically reflect their business costs. However we question why families who only want a basic service or assistance with one or two aspects of a funeral should have to pay to cover 'Äòfeatures'' that they don''t want?
The answer has to be – make phone calls, 'shop around' and find a flexible, helpful funeral director who will listen to what you need and help you achieve it. Most funeral directors will be able to provide a 'simple' or 'basic' funeral option – these are just as dignified and respectful as any alternative, and often many hundreds of pounds cheaper.
Direct Cremation
One development in recent years is the introduction of companies who offer a bluntly named 'Äòdisposal service'' This is exactly what is says, a low cost service where there is no funeral ceremony; the body of the person who has died is collected, placed in a low cost coffin and cremated at the funeral director's convenience. No service, no viewing, no anything. This option is not for everyone, and if it is something you are considering we would recommend thinking carefully about the possible impact on family and friends and discuss is with them beforehand.
Communication is the key with this whole subject and ideally something that take place well before the end of life. Let your family know what you want before the time comes. If it is your wish to cost your family as little as possible when you die, there are many areas that can be explored.
Talk about it now
One essential factor is that discussion before a death occurs can provide those left behind with permission to minimise the amount spent on a funeral – without this, it is all too easy for those bereaved to feel pressurised into agreeing to services they might not necessarily have wanted.
A lower cost funeral does not have to be a bad funeral – likewise spending many thousands of pounds does not guarantee it will be a good one.
If you are not doing a DIY funeral, there are still many areas in which you could save money.
We strongly recommend contacting the funeral director you are considering using and discussing your requirements with them before engaging their services.
Most people would find it very difficult to change their chosen funeral director once the person who died has been taken into their care, so it is important that you have confidence in their willingness to support you in minimising the costs involved.
It is important to emphasis however that it is your right to change your mind and find another company to help you if the funeral director you initially make contact with is not able or willing to carry out your wishes. This applies even if they already have collected the body of the person who has died.
We suggest you ask for a detailed costing for the level of service you require and establish that there are no hidden extras before proceeding.
Below are some ideas of how you can keep the costs of the funeral to a minimum.
1 Coffins. Choose a basic coffin or make one yourself. Or choose to use a shroud for the person who died instead. There is no legal requirement to use a coffin for burial. You can also order a coffin yourself and supply it to the funeral director. If they are not happy with this or wish to charge a 'handling fee', you may want to consider choosing another funeral director.
2 Embalming. This is often called 'hygienic treatment' by the funeral arranger, but contrary to most people's understanding, it is an invasive, toxic procedure.
Embalming is not necessary, and you do not have to have it.
If the funeral director does not have refrigerated facilities or a cold room, if there is some delay in getting a date for the funeral, or if the undertaker stipulates embalming is required in order for the family to spend time with the person who has died, you may want to consider choosing another funeral director.
3. Vehicles. Contrary to what you may be told, you do not have to use a hearse to transport a coffin.
Ask the funeral director what alternatives they can offer, or arrange to collect the body of the person who died in your own vehicle from the funeral director's premises. If the funeral director is unwilling to allow this you may want to consider choosing another company.
You do not need to use limousines – follow the vehicle carrying the coffin in your own cars, or meet at the funeral venue.
4. Visiting. Check whether a fee will be charged for spending time with the deceased at the undertaker's premises. If it is going to be important for the family to visit the person who died several times, you might want to choose a different company.
5. Flowers. 'Floral tributes'can be extraordinarily expensive. Why not pick hand held bunches from the garden or just have each mourner holding one seasonal bloom? Conventional arrangements also produce a lot of non-compostable waste.
6. Officiant. Unless the service is to be a religious one, it is possible to conduct the service yourself or find someone within the family who can act as a Master of Ceremonies, calling on the other speakers and introducing the choices of music for example.
7. Orders of service. Most families have someone with a computer and printer; why not get them to print out any poems, hymns and other parts of the ceremony that the family have chosen.
8. Memorial. If you choose a natural burial site where a tree is planted instead of a headstone, you will save hundreds of pounds.
9. Venue. Unless the service is religious, you might like to hold the ceremony at home or at another venue.
10. Pall Bearers. You could provide these yourselves. If the person who died is not very big there is no reason why four women can''t carry the coffin. You do not have to carry the coffin on your shoulders, you can carry it at waist height, which is far less daunting. Ask the funeral director if he/she would be happy with this and if the costs would be reduced by not requiring four additional staff members present – if the answer is no, you may want to consider choosing another company.
11. Grave digging. Some cemeteries or the natural burial grounds may allow you, under supervision or not, to dig the grave yourselves; this may cut this cost down.
12. Home burial. There is no law preventing you from being buried on your own land or that of a friend. As long as no money changes hands you do not need planning permission. There are potential problems with home burial, so please get in contact with the Natural Death Centre for guidance if you are considering this option.
13. Catering. It is common for friends and acquaintances to make contact after a death asking if there is anything they can do Рplease say YES! It is comforting for everyone affected by a death to feel like they are doing something to help or contribute, so why not get them to rally round and do the sandwiches, cakes, provide the cutlery, organise the tea and coffee for example. Catering for 50 people can quickly cost much more than £500, so be a good delegator.
Thanks to theNatural Death Centre