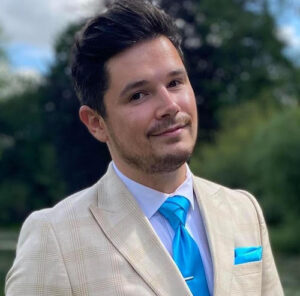 Wedding Celebrant in Glasgow
Hi there, I'm Alex, and I'm a Family and Wedding Celebrant in Glasgow, but am willing to travel anywhere. Nice to meet you.
I love weddings.
From the moment a couple meets and falls in love, I have felt so much joy in hearing their stories and having these stories reflected in their ceremonies.
Since no two love stories are the same, I'm here to help you tell yours and create those precious moments that last a lifetime.
The wedding process has been known to be a tad stressful from time to time.
Fear not, I will be there for you no matter what challenges you face.
I have always been drawn to the stories that make people who they are. My story in life has rounded me perfectly for this role. With experience as an actor, singer, events host, and coordinator, as well as work in the jewelry industry, I have the knowledge of what makes a perfect wedding and the skills to deliver it.
I know that if you like it… you should put a ring on it!
I originally trained as a celebrant to conduct my brother's wedding, and knew from the moment I started writing my first draft that this is what I am meant to do.
As a proud member of the LGBTQ+ community, I would be delighted to assist in all ceremonies from all walks of life, including same- and opposite-sex weddings and commitment ceremonies, as well as provide bespoke naming ceremonies for children.
I am qualified to deliver Weddings and Commitment Ceremonies, as well as Naming Ceremonies, Vow Renewals, and any other family events you would like to commemorate so don't hesitate to get in touch.
During your initial meeting, you can discuss all the requirements for your ceremony. Some may be steeped in tradition, such as the popular Celtic tradition of handfasting, others can be designed specifically by us to really let your personalities and interests shine through. For a full list of service, please drop me a message on here, or through my website http://www.alexthecelebrant.com