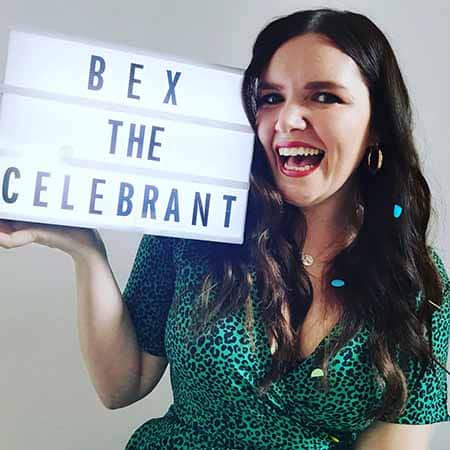 Celebrant Services Offered
Ceremony Script Writing
Naming Ceremonies
Wedding Ceremonies
Civil Partnership Ceremonies
Renewal of Vows Ceremonies
Wedding Celebrant based in London/ South East
Hey, I'm Bex, a Wedding Celebrant based in London/ South East (though I am happy to travel!) Did you know, you don't have to settle for either a religious ceremony OR a traditional, formal, registrar wedding. There's a fun, third option – a Celebrant Wedding!
ABOUT ME:
I love love, and am obsessed with weddings. It feels like my career has brought me to this…can I call it a job?! Let's go with passion!
From training as a dancer, to working as a Redcoat at Butlin's, or as an Entertainment Officer on P&O Cruises, I've always loved getting up in front of a group of people and entertaining them (even if it's just a bit of karaoke! – My Humps by Black Eyed Pea's is my go-to, in case you wondered).
More recently, in my job as a TV producer, I spent my days interviewing people, finding out about their stories, and building up relationships with them. I would tell their stories in a creative, captivating way, and create TV shows around them.
Since becoming a wedding celebrant, I do exactly the same, but rather than getting people to talk about what they're watching on the telly (Oh hey Gogglebox!), I get to learn about YOUR story, your LOVE story, and tell it in a gorgeous way. And by your big day, we will know each other so well that it'll be like having a bestie up there with you.
FAVE THINGS:
Music (Anything 80s-2000s; Musicals; Yacht Rock – look it up!)
Dancing around the house
Baking
Quoting 'Friends', 'Step Brothers' and 'Mean Girls' (or just about any stupid movie)
Paul Rudd (hello!?! The man never ages)
Karaoke
Spice Girls
Dad Jokes
AM I THE RIGHT FIT FOR YOU?
I never knew about celebrant weddings (and man do I wish did!), but seeing as you're on this page, you're in a lucky position.
But there are a lot of celebrants out there (I know) – so how do you know if I'm the right girl for you?
Do you like to think outside the box and stand out from the crowd?
Is your ideal day a party from start to finish, but still personal, captivating and romantic?
Are you looking for someone young, quirky and creative, but also warm and sentimental?
Do you want your day to be unforgettably fabulous and vibrant, filled with laughter, happy tears, music and fun?
If this sounds like you, you're in the right place!
ABOUT YOU:
You're a couple who are looking for something more personal, more romantic, more…you.
You want a ceremony that has been created especially for you, with all the fun bits thrown in (and boring stuff chucked out), where your input and creativity is heard and encouraged.
You don't want a 'traditional' or 'formal' registrar who you meet 5 minutes before the ceremony leading your wedding day, you want someone you've got to know, who you've built a relationship with up there with you!
You want the freedom of where you can have your wedding, not restricted to a licensed venue or place of worship. You could have your wedding outside in a field, festival style. In the restaurant you had your first date in. In your parents back garden like Father of the Bride (what a movie!!). The possibilities are endless.
As well as weddings, I also love hosting Baby Naming Ceremonies, Vow Renewals, and just about any other big celebration!
Please do feel free to get in touch for a non obligation chat, and see if we are a good match for each other - I can't wait to hear from you!