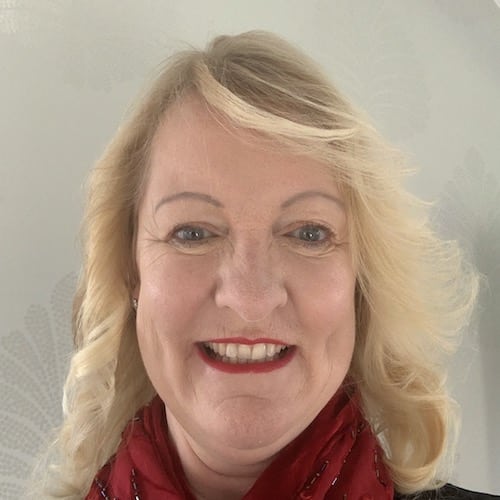 Celebrant Services Offered
Ceremony Script Writing
Naming Ceremonies
Wedding Ceremonies
Civil Partnership Ceremonies
Renewal of Vows Ceremonies
Funeral Ceremonies
Memorials
Celebrant in Staffordshire for Weddings, Handfastings and Funeral Ceremonies
Hello , my name is Deborah Roberts , I live in the Staffordshire countryside with my partner Michael who happens to be a lovely Irish man . I have also lived in Dover , Worcestershire and Leicestershire; sounds like I have a liking for the Shire counties! We also lived in Houston Texas in 2018/2019 when Michael was working there, now that was an adventure!
Meeting so many people from different cultures and making new friends along the way. I have two adult sons who I am very proud of and my first grandson arrived in 2020, what joy a little one brings to a family . Professionally I am a qualified social worker and have worked with children and families for many years. Back in 2008 I set up and ran a social enterprise delivering a wide variety of services in the community. A big part of my work over the last 25 years has been about supporting people to improve their lives. I am blessed with having a real interest in people and have learnt so much from all the interactions over the years.
In both my personal and professional life I have spent time with people when they are at really low points in their lives. I am seen as the go to person in the family to firstly be able to listen but to then know what's next. I am incredibly organised and am skilled at managing multiple requirements of my time. Being able to actively listen to people and not second guess their responses is one of my key skills, and one which I believe is vital in the role of celebrant. I am skilled in absorbing vast amounts of information and putting this together into a 'story'. I have a genuine love of life and interest in people's experiences and enabling them to tell their story or the story of a loved one.
Over the years I have been asked to do a number of eulogies for friends who have died. Although the occasions were sad I was always able to recall a few funny moments to tell people about. I believe that appropriate humour at funerals is a good thing. A celebration of a person's life can really bring this together. Sensitive but creative is how I would describe my approach. Sadly in 2018 I lost my mom and my eldest sister within five weeks of each other bless them. You then get to see how funerals work or don't. Fortunately we were able to work alongside the celebrant at both ceremonies and particularly for my mom create a great life celebration that she would have loved. I had so many people comment at how 'that was the best funeral I have ever been to'; I wonder if the role of a celebrant could be for me?
I have organised big family parties for many years, been involved in numerous wedding plans (my partner is Irish as I said and oh how they love a good wedding, and a funeral too !!) I also organised a family baby shower, which was a first; picking up some tips from my time living in the US! It was a fun occasion bringing people together .
I decided to train as a celebrant to add value to my work around supporting people's wellbeing. Being a celebrant brings together my love of people, creative writing skills and organisational ability. I consider it a privilege when people choose me as a celebrant for their ceremony. For people to embrace you into their lives and share their innermost thoughts, feelings, fears and also their hopes and dreams is truly a special place to be.
Thank you for taking the time to look at my profile and I look forward to hearing from you.