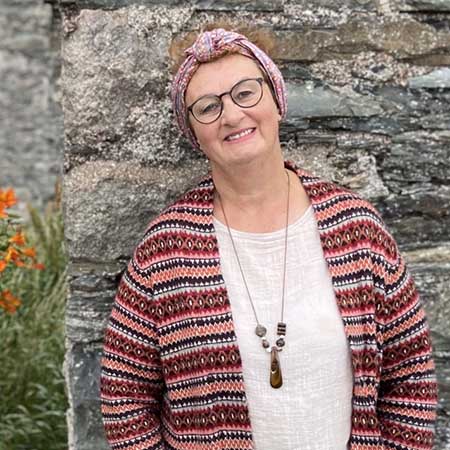 Celebrant Services Offered
Ceremony Script Writing
Naming Ceremonies
Wedding Ceremonies
Civil Partnership Ceremonies
Renewal of Vows Ceremonies
Funeral Ceremonies
Memorials
Shetland Wedding and Funeral Celebrant
My name is Hilary Smith and I am a Family and Funeral Celebrant, living and working for over 20 years in a small community on the westside of Shetland. For the past 16 years, my partner and I have owned the local grocery store in the village (in fact the only store for 10miles!), working closely with members of the community not only as customers, but serving as a local hub for information, visitors, bookings, meetings and even take-away pizza nights! Being the 'heart' of the community was hard work, especially while raising our two children, but we were rewarded with life-long friendships and the knowledge that our help was very much appreciated.
Since selling the business, I have enjoyed working at the local village primary school on supply as a learning support worker and a nursery assistant. I love working with the children, especially the creative activities, and I sometimes take my life size puppets along to help!
Being part of a small community it is important to contribute, and over the years I have been fortunate to be involved in many events, and working alongside different groups. We have great fun in the amateur dramatics group producing pantomimes, comedies and talent nights. As a scouting leader, we revived the local viking fire festival, which was thoroughly enjoyed by the whole community, and I introduced a yearly auction /fundraiser for Cancer Research in the village hall, all of which have been a lot of fun. There are coffee mornings, flower shows, raffles, galas and so much more, all of which I thoroughly enjoy being a part of. It's what I like to do!
Living in this close-knit community has given me not only a home, but has allowed me to meet, work with, and help so many interesting people from Shetland and further afield, and this will be invaluable in my role as a Family and Funeral Celebrant.
At Shetland Celebrant, I specialise in creating custom ceremonies, with the emphasis on choice, your choice. Whether you prefer a traditional or more contemporary style of ceremony, I will work closely with you to write and deliver an original piece, which reflects and represents your preferences and style.
As we go through life we like to mark our milestones, and a new arrival in the family is often the first of these celebrations. At a Baby Welcome and Naming Ceremony, you can 'formally' introduce your little one to your wider circle of family and friends, and choose life mentors or guardians to help guide them as they embark on the journey of life. You can 'officially' announce the names you have chosen and include a naming parchment as a beautiful keepsake.
An Engagement Ceremony is the perfect way to celebrate the start of your journey as a couple. You can announce your engagement to family and friends, and include special elements such as ring warming and a candle unity as you make your promises to each other.
A wedding day is an important milestones for a couple. Your special day should reflect who you are and be centred around you. As your wedding celebrant I will work closely with you to create and deliver a bespoke ceremony with you at its heart. I can be flexible regarding location so let your imagination take you somewhere really special! In the years following your wedding you may feel you would like to re-affirm your commitment to each other, and a Renewal of Vows Ceremony is a perfect opportunity, along with family and friends to do so.
As your funeral celebrant, I can offer both traditional and alternative ceremonies. I will construct a funeral ceremony, Celebration of Life, Memorial Ceremony or Scattering of Ashes, befitting for you and your loved ones.
Shetland Celebrant: It's all about choice, your choice.
In order to be legally married in Scotland, the couple must register their intention to marry at their local registry office. The registrar will issue a marriage schedule, which can be signed by the registrar and the couple along with two witnesses. This does not have to be a ceremony, or include any exchange of vows or rings, it is just a short meeting to sign the wedding schedule, which in turn will produce a wedding certificate.