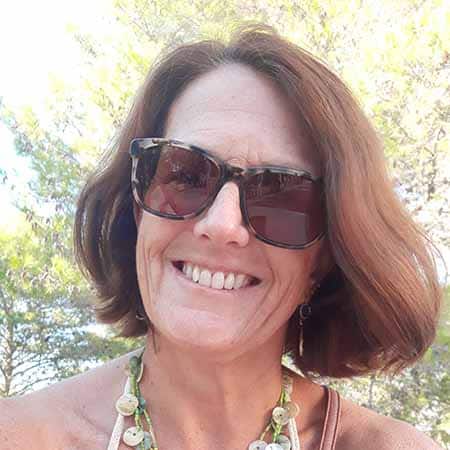 Celebrant Services Offered
Ceremony Script Writing
Naming Ceremonies
Wedding Ceremonies
Civil Partnership Ceremonies
Renewal of Vows Ceremonies
Funeral Ceremonies
Memorials
Celebrant in Kefalonian
Hello my name is Donna and I am your Kefalonian Celebrant. I have lived on the Greek island of Kefalonia since 1985 and have spent more time in Greece than the UK now!
I met a local Greek man and as they say...the rest is history. I am passionate about the island and do lots of charity work to support local groups and animal and wildlife organisations.
I have many animals myself at home so dog walking, chicken and cat feeding is a daily routine but great fun and I wouldn't change a thing. Our newest members are two tortoises and I hope to become a nanny as soon as their eggs hatch!
I also enjoy my garden and living in Greece we have a vast range of fruit trees, vegetables and plants which thrive in the heat and sunshine.
My three adult children are all at universities away from the island but when they can, they pop home to visit mum and bring home some dirty laundry - but we love them don't we?!
I enjoy meeting people, learning about their interesting lives, where they have been and what they have done. Everyone is so different and everyone has their own story. Some make you laugh and others can make you cross but us humans manage to get it together eventually.
If you haven't been to Kefalonia before you really should add it to your Bucket List, as it is a stunning island, not too commercialized, but still enough to do without being too busy. The food and wine is amazing and the beaches are some of the best in Greece, so look-up Kefalonia and I hope to see you here one day soon.
Kefalonia Ceremonies will offer people a chance to have a wonderful celebration with some unique Kefalonian Elements. Why come to Greece and not include anything Greek? Doesn't make any sense does it, so we have included some very special elements for you to make your celebration even more amazing.
We also offer funeral and memorial services so you can remember your loved ones and celebrate their life in the style they wanted and in the place they loved. So many people come to Kefalonia year after year, there is something very special about this island and once it's in your soul there is no getting rid of it.
If you want to elope or have a big fat Greek wedding, then we can create the perfect ceremony for you and make it the most memorable occasion ever. It doesn't matter how many flowers there are on your reception tables, it's the ceremony you want all your guests to remember and tell you that it was the best wedding ever.
I am also happy to travel to other places in Greece or the Greek mainland as long as there are no other ceremonies the same day as being an island I need to fly or get a ferry to any other venue.
The Kefalonia Ceremonies web site will be up soon but you can also see our other site Kefalonia Weddings and Special Events by Donna which will help you with the planning and event design.