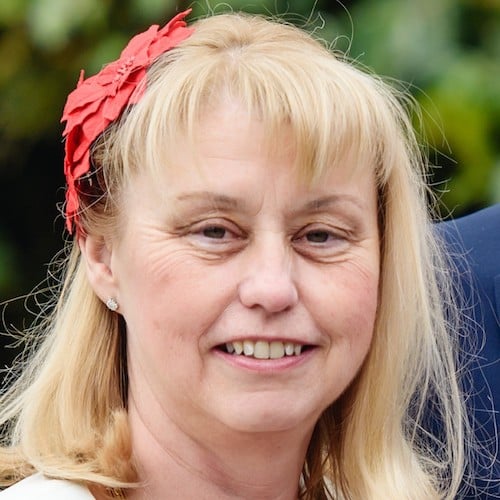 Celebrant Services Offered
Ceremony Script Writing
Naming Ceremonies
Wedding Ceremonies
Civil Partnership Ceremonies
Renewal of Vows Ceremonies
Funeral Ceremonies
Memorials
Celebrant in South Manchester for Weddings, Handfastings and Funeral Ceremonies
Hello, my name is Jackie and I am a l Civil Celebrant covering South Manchester. The areas include Stockport, Wythenshawe, Sale and Irlam but I am willing to travel much wider.
I trained with and am proud to be a member of the United Kingdom Society of Celebrants.
Working as a celebrant allows me to work closely with families and help them to achieve wedding ceremonies they dream of.
The chance to support bereaved families requires compassion and kindness, both qualities I share with the families I work with.
Funerals
I am interested in hearing about the lives of other people and regard it as the essence of a meaningful funeral ceremony to capture the spirit, character and values of the loved one's life. This is a very sad and difficult time for all the family, and I will be able to guide and support you in expressing the spirit of your loved one.
I will paint a picture with words so that together we can show the life and passions of your loved one. These will be sensitively delivered, with warmth, reverence and care and reflect a life well lived. Finding the right poems or tributes can be daunting when you are feeling so lost and selecting the right music can be overwhelming. I will guide and suggest words and music that will help you express what you want to share with your family and friends.
After listening and talking with you, I will endeavour to create a ceremony which is personal and uplifting, respecting the  beliefs of you and your family and therefore create a lasting tribute at your time of loss and grief.
Weddings
Your wedding day is one of the most exciting days of your life. You will want it to be a unique, personal, and memorable occasion. Many people plan their weddings in their heads from childhood. These ideas and dreams will have grown and changed over the years and now comes the time when all the plans come to fruition! Share your thoughts, dreams and aspirations with me and I will deliver exactly what you want for that special occasion.
Together we will design your dream celebration to share with family and friends and create everlasting memories.
Your wedding will reflect your ideas, values and personalities and can include family traditions, cultural or heritage customs, as you choose. It can be the opportunity to create a new family tradition that will be passed through your family. One visit to my website will show you the many different experiences you could choose from. But do not let that limit you…let us create a new element!
Using a celebrant allows you freedom to do whatever you want with no restrictions.
Everyone has different ideas about the sort of ceremony they want, so once you have engaged my services, I will meet with you to discuss your philosophies in detail. I can deliver religious or non-religious ceremonies, as you wish and can make suggestions for poems, readings and music that result in a personal and unique experience.
Let me help you to create the perfect day.
Naming Ceremonies
Naming your child is a special and magical moment in any family's journey. I will work with you to accomplish a ceremony that is tailored exactly to your own wishes and is both exciting and moving.
Incorporating special elements such as a wishing box or naming plate make the occasion unique and memorable.
Whether it is a baby or an older child or children, naming ceremonies mark a new beginning for parents and children.
A naming ceremony is a stunning way of welcoming adopted children, or the joining together of stepchildren into a new family. It is beautiful celebration of a new bond that will grow stronger over the years.
Older siblings, Grandparents, and other family or friends can have a special role crafted for them that will enhance the occasion for all. The day will unfold according to your wishes and will ensure memories that will last a lifetime.
All my ceremonies have you and your family at the heart of them. They are performed with respect and dignity and can be non-religious or religious, formal or relaxed, as you wish.
Contact me to discuss your wishes and together we will create new memories and experiences. We can meet in person or on-line as suits you. Let us start the dream today!