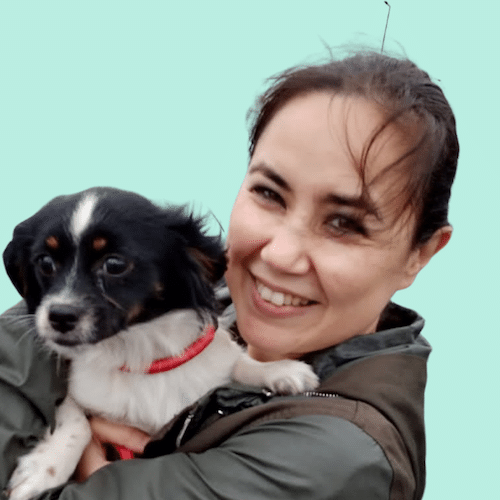 Celebrant Services Offered
Ceremony Script Writing
Naming Ceremonies
Wedding Ceremonies
Civil Partnership Ceremonies
Renewal of Vows Ceremonies
Funeral Ceremonies
Memorials


Wedding and Funeral Celebrant in London
My name is Shâo-Lan, it means Little Orchid, I'm a vegan, yogi, salsa dancing, animal loving, charity shopping, London dwelling, story telling, super woke wedding and funeral celebrant in London.
Thank you for stopping by... I'm sure it's because you're celebrating someone you love. I hope you find who and what you're looking for in a celebrant whether it's here or somewhere else.
I became a celebrant because the loves and losses in my own life have taught me that ritual, culture, creating your own traditions and celebrating life together can not only be fun, it can be essential to healing too.
But, full disclosure, I've spent most of my life trying hard not to be a celebrant. Celebrant-ing didn't seem like something that someone like me was allowed to do… firstly, I didn't know what it was. I thought if you got married or had any other significant public event, you had to do it in a particular way, in a particular place with a particular important looking person in some kind of robe.
Secondly, when I found out you didn't have to wear a particular type of robe (though this is negotiable if robes are your thing and it's in my colour), I don't fit in. My 'cultural background' is like a jigsaw of ethnicities, I'm too young and inexperienced, I'm too old to change career, I'm too unconventional, I'm too short (ok, that's just an excuse).
So I did jobs I thought would make me more 'normal': teacher (admittedly sometimes in the Galàpagos Islands), lecturer, project manager.
When I accidentally found myself officiating at my uncle's funeral and a distant cousin came up at the end and said, "you should do that as a job" I thought, "ha! I can't do that, can I?"
But here we are! And yes we can!
So if, for your ceremony, you think "we can't do that, can we?!" then yes we can and I'm your gal!
I deliver weddings, naming ceremonies, memorial services, funerals (including for companion animals) and any other ceremony that marks transition in your life or the life of someone you love.
You know how they say "bring your whole self to [insert area of your life here]"? This is what we do with your ceremony whether you're celebrating love, loss or another important life transition.
Although these are universal human experiences, your journey is a unique one and deserves to be marked in a way that expresses the challenges as well as the triumphs that have brought you to the ceremony that you're planning.
You might be feeling overwhelmed at the prospect of all the arrangements you have to make so my role is to ask lots of questions (sometimes kind of weird ones… but trust me, they'll help you to include everything you want) then construct and lead a ceremony that helps you to tell the stories, add the personal touches and honour the important people that have been meaningful to you on your journey.
As your celebrant, I take the stress out of creating the framework and the flow of the ceremony so that you can feel like you've really done justice to the precious life that you're celebrating.
I'll help you to sit back and think, "yes! I've included everything and everyone I wanted to make this meaningful and celebratory. I haven't left anything out. Now I can concentrate on which hat to wear!"*
*If this is tricky too, I own a very large selection of hats so you can always borrow one of mine!
I'd love to talk more about the ceremony you're planning (and, if appropriate, outfit and other flourishes that show off the personalities of the special ones that you're celebrating) so please get in touch.