What is an End of Life Doula?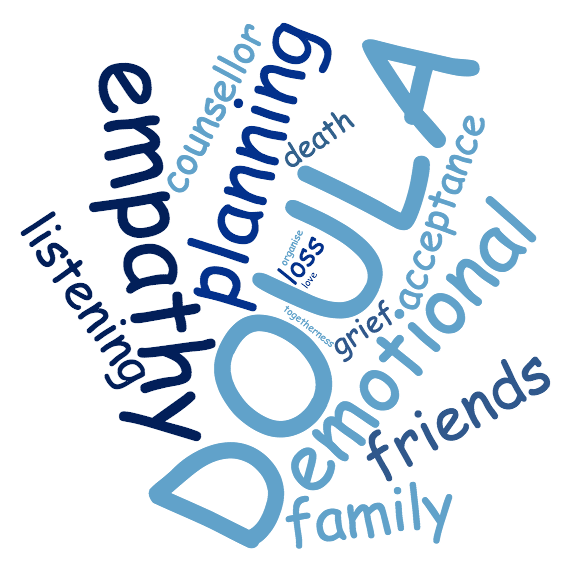 The role of the End-of-Life Doula is to help people who are living with dying. End-of-Life Doula's provide emotional and practical support to individuals and their families as they face one of life's major challenges.
The End-of-Life Doula supports the dying person and their loved ones during the final days, weeks or months of life. Enabling the dying person and their family to live life to the fullest.
The person centred approach of the Doula ensures the dying person is at the centre of decisions which relate to their life and death. The role is flexible and varied as it depends on the clients needs, you may be required to seek information, 
make and accompany the client to appointments or sit and listen.
The role of the End-of-Life Doula is not a medical role, you are not there to duplicate the work of the medical profession. So you do not require a medical background to carry out this role. However you do need to demonstrate the qualities of empathy, genuineness and acceptance.
End-of-Life Doula Training
The United Kingdom Society of Celebrants offers training to those who wish to support individuals at the end of their life.
The course consists of four units and on completion of each unit, a related portfolio and learning journal, participants will be awarded the End-of-Life Doula Diploma accredited by UKSOC.
Unit one of the course, which establishes the culture with its experimental learning style, focuses on the role of the End-of-Life Doula, the importance of good communication in relation to identifying client's needs, the principles of effective listening and responding when supporting people at the end of their life.
Unit two is a natural progression from unit one as it builds on the skills and knowledge gained previously. It is not about turning individuals into trained counsellors but identifies that some skills counsellors use can help individuals to become better emotional and practical supporters.
For anyone working in the area of end of life it is important to understand how people are affected by death. The focus of Unit three is to understand the meaning and experience of loss and bereavement and its impact on clients and their loved ones. We look at bereavement theories and rituals and participants are encouraged to explore their own experience in relation to loss and bereavement in order to gain an understanding of how to respond and support others.
Attention on Unit four is given to the personal impact of supporting end of life clients and the importance of self-care. Participants are shown how to help a client develop a plan enabling them to live and die in the place and manner of their choosing. How to care for the client and loved ones following death then finally some of the legal implications of being an End-of-Life Doula.
The training takes a blended learning approach with its shared and reflective activities and many aspects of the course focus on self-awareness. Self-awareness involves being conscious of who you are and how you will react in certain situations which is very important as a supporter for end of life clients. Knowing how you react enables you to develop strategies of support.
As participants progress through the programme they will gain useful skills and discover strengths which will help them feel confident in their abilities to become an End-of-Life Doula.
End of Life Doula Training Schedule
The role of an End of Life Doula
The principles of effective listening when dealing with people at the end of life.
Communication in relation to identifying the needs of people at the end of life.
Giving and obtaining information appropriately when working with clients and professionals
Ethical and moral issues that can arise when using supporting people at the end of life
How attitudes, values and beliefs affect the use of supporting skills within a supporting relationship
Theoretical frameworks for supporting people at the end of life
The importance of self-awareness and reflection for an End of Life Doula
The personal impact of supporting people at the end of life
Bereavement theories
Different cultural rituals around death
Palliative care and its concept
Emotional responses a person near the end of life can experience.
End of life planning; Advance Care Planning; Practical Information and Support
Legal requirements for the role of End of Life Doula
Client confidentiality
Next Course
Part 1 | February 2nd & 3rd 2019
Part 2 | March 2nd & 3rd 2019
Each day will commence at 09.00 and conclude by 18.00.
The cost of the course will be £500 which includes lunch and refreshments on each day.
Venue
The Centre, Mind Body Spirit, Gillingham, Kent, ME8 8PQ.
The venue is adjacent to a Travel Lodge for those in need of accommodation.
PAY BY PAYPAL
Contact Us below for Invoicing.