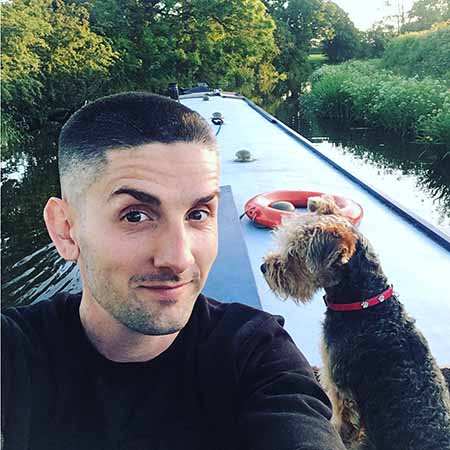 Celebrant Services Offered
Ceremony Script Writing
Naming Ceremonies
Wedding Ceremonies
Civil Partnership Ceremonies
Renewal of Vows Ceremonies
Blackpool Wedding Celebrant
Hi! I'm Glenn, I'm 31 and I'm a Family Celebrant. I live in Blackpool with my partner and our two Lakeland Terriers. Originally, I'm from Gloucester.
I moved to London when I was 17 and studied musical theatre for three years full time at Bird College. When I graduated in 2010, I moved over to The Balearic Island where I worked in a Touring Show Team for a number of years. I loved it.
I now live a (slightly) more simple life, and my main hobby is taking my dogs out in the Lake District for some incredible walks. When I'm not up a mountain, you can generally find me in a dance studio, where I now teach Zumba classes, Adult Tap Dance and also Musical Theatre for children. I absolutely love it. I find it super rewarding being able to teach people new things, and keeping them fit all at the same time.
Drink of choice? Red Wine...Ideally a Cabarnet Sauvignon, but if I'm totally honest I'm not fussy. As long as it doesn't taste like vinegar I'm generally down for whatever. Even if it does I'll drink more to make it taste less.
Favourite Food? Tough question because I love all foods. On occasion I decide I'm a strict vegetarian, so I'd probably have to say a nice Five Bean Chilli. On the occasion I slip up...Fish and Chips, that's the Blackpool Boy coming out there.
Sneaky little claim to fame ALERT! When I was about 9 or 10, I was actually in the final five to play the part of Harry Potter, in the movie Franchise of the same name. You know the one, right? Sadly, I don't really have too much of a detail memory on the situation, other than always having a number pinned to my front, and various screen-tests reading from parts of the first film.
So there we have it! That's me! Can't wait to meet you!
That Celebrant Guy
'm "That Celebrant Guy" or Glenn, if you'd rather.
I offer a variety of different ceremonies, from Weddings and Vow Renewals right the way through to naming ceremonies.
All of my ceremonies are totally written from scratch. There are no tick boxes, no sample scripts and each ceremony that is written will be totally different from the next. I want to work super closely with you to make everything exactly as you want it to be, with that added little bit of SHAZAM.
When people say that the ceremony is the boring bit, no matter what the event is, it always makes me smile...challenge accepted! Without a ceremony, there isn't an event. Your ceremony will be one that you'll always remember. They don't have to be boring. They can include pretty much anything, everything you want and take place anywhere you want.
That's right, you heard it correctly, the venue doesn't even need a license. Want to have the ceremony on a beach? Let's do it (I'll even pop on my flip flops if you like). Top of the Blackpool Tower? I reckon I can make that happen...it's who you know after all. The options are endless, and I could go on, but it's something you need to decide on yourself.
If nothing else, as a gay man, I've got an exceptional taste in footwear. One thing you can guarantee is the shoes aren't going to be boring. Generally they're a topic of conversation in fact.
So why not give me a call, send me a message, send a messenger pigeon if you need to, and we'll get talking about all things ceremony and create an amazing day for you and your families.