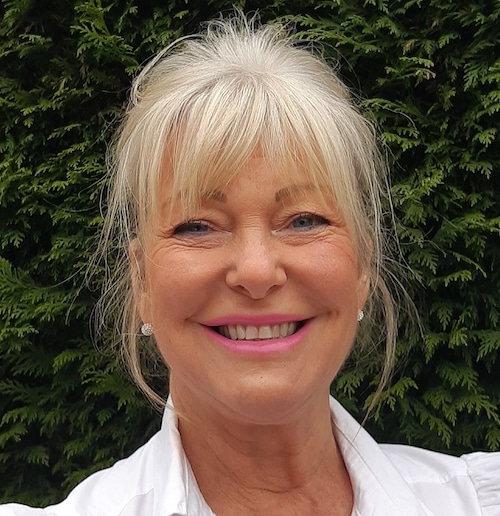 Celebrant Services Offered
Ceremony Script Writing
Funeral Ceremonies
Memorials
Interments
Scattering of Ashes
Funeral Celebrant in the North West
My friends and family describe me as bubbly and compassionate with a caring nature, warm personality and genuine interest in people. I agree with this description and would add that I am open hearted and open minded! I am a good listener and communicator. I was widowed four years ago. Barry and I have two grown up daughters, Georgia and Betsy, and not to forget to mention our two fur baby King Charles Spaniels, Teddy and Stanley.
Born and bred in the North West, I met my husband whilst singing on stage when I was 19 years old and he was the guitarist in the band. Our most memorable engagement was entertaining Charles and Diana! We performed together for 16 years, until family life took precedence. Our love of all genres of music and poetry has always been significant to us through the years. Losing my husband of over 30 years was the catalyst for me wanting to help others with a truly personal Ceremony to pay tribute to the loss of a loved one. I love the outdoors, nature, sunrises, sunsets and I am a qualified photographer. My favourite landscape subject is The Lake District, which is my favourite place to visit. A keen gardener myself, I love to visit stately homes and gardens. Travelling and learning different cultures and beliefs is something I really love. I have visited many countries but there's so much more to explore!
I strongly believe that everyone should have the send off they and their loved ones desire and I will write a Ceremony which is intimate and will capture your loved ones true character, which will be reflected on the day. Your Ceremony can be non-religious or semi-religious to include spiritual elements such as readings, poetry, prayer and tributes. It can be held anywhere, anytime and include anything you wish for the day. I will be by your side to help you with planning, research, decisions and suggestions.
Losing a loved one is probably the worst time in a person's life. As a Funeral Celebrant, I am here to calmly and professionally take away some of the strain and stress that can happen when planning a funeral. Whatever your choices of style, readings and music, from Steps to The Stones or Wordsworth to John Cooper Clarke, I will create a unique Ceremony that truly captures the personality and the life and loves of your loved one.
Everything I write will be meaningful to you and I hope as the composer and facilitator of a compassionate, respectful and truly memorable Ceremony, will provide you constant consolation not just on the day but for many years to come. I will work with you to craft a Ceremony which pays honour and tribute to your loved one.
Together we will look back over their life with warmth and happiness. I will be listening to every detail to ensure I have a picture and an understanding of who your loved one was and what made them unique. I will draft a script for your approval including a Eulogy, poetry readings, tributes and music that best suits your loved one. You will be able to read through this and make any amendments or additions you wish. I will liaise with the Funeral Director to make arrangements and deliver the Ceremony on the day, leaving you with a presentation copy.
My aim is to give you a bespoke experience that is a fitting farewell to your loved one.