Many of you may have heard about pop-up weddings but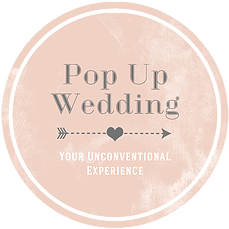 not experienced one, however, once tried – never forgotten. 
"You basically just show up. If you don't want the stress and the cost of a traditional wedding, it's perfect!'"
So '"What is a pop-up wedding?'"
Not all pop-up weddings are the same, but they do have a common purpose: to make it easy for a couple to get married, and to make it less expensive.
Pop-up weddings truly are perfect for couples who simply don't have the cash to pull out all the stops on their wedding day. They are also ideal for couples with other priorities, such as travel.
And because not all of us like wedding planning, they are a great option for couples who don't want to invest months orchestrating an event.
Some pop-up weddings are like fancy elopements with no guests. Australia''s The Pop Up Wedding describes their service like this:
'"We find the coolest venue, the hottest photographer, really creative stylists and florists and a rocking wedding celebrant and put them all together so for one hour you can have your dream wedding with no fuss, no stress and a few guests.'"
Perth Pop-Up Wedding, also in Australia, allows up to 16 guests, and lets you choose from eight different venues.
'"We provide an incredibly stunning and romantic venue with three inspiring and uniquely styled ceremony options 'a beautiful mini bouquet, Perth''s most awarded celebrant, celebratory champagne and cake for you and your guests and photographs of your ceremony followed by a short portrait session as husband and wife with one of Perth''s most sought after photographers"
Thankfully, you don't have to go all the way to Australia to have a pop-up wedding. The trend is catching on here in the UK too.

A pop-up wedding is much like an elopement. A short & sweet ceremony usually consisting of the couple, their witnesses, a few guests & a wedding celebrant. Endless natural landscapes for backdrops & vintage neon signage are a favourite.
Another variant is a "flash wedding", flash as in "flash mob", depending on the location, not recommended unless you are a brave wedding celebrant with an equally brave couple. I did a goth themed wedding on the steps of a well know and busy cathedral (handfasting & broom jump too). The Bishop was incandescent with rage – but it was all done and dusted before he could do anything about it – priceless.
Why are couples choosing pop up weddings?
Large scale weddings aren't for everyone. A lot of the couples would rather spend money on their honeymoon, instead of a ceremony that isn't really about them. Pop-ups are all about the couples & the love they share. It''s really a sweet & genuine & exciting moment.
What''s the cost?
How long is a piece of string? Having taken a straw pole of those of us who have done them, the costs have ranged from £1200 to £5600 All in – including the wedding celebrant. Much depends on the imagination of the couple and the skills of the wedding celebrant / planner.
For UKSOC Wedding Celebrants interested in this concept – speak to your Mentor.