Welcome back. Wedding traditions around the world prove there are many ways to say "I do."
There are many fascinating wedding traditions around the world, from the bride tossing her bouquet to wearing something old, new, borrowed, and blue, British wedding customs are still so popular today that even the most non-traditional couples happily take part. (Why tempt fate and start off your new marriage with anything other than good luck vibes?) But Brits don't have a monopoly on such rituals—pretty much every other country and culture also has its own beloved wedding customs.
Some are sweet, like how wedding guests in Sweden kiss the bride or groom anytime their new spouse leaves the room. Some are perplexing: Couples in the Congo, for example, are forbidden to smile on their wedding day. And some are seemingly strange, such as the way engaged pairs in Mongolia must kill and butcher a chicken to find a healthy liver before being allowed to wed. But what binds these seemingly disparate customs from near and far is one simple thing: love.
If you follow these traditions, the theory goes, you will find eternal joy with your soulmate. So, even if some Hindu brides must first marry a tree or some South Korean grooms have to tolerate getting their feet whipped by family and friends, hopefully, it's all worth it in the end. When love and happiness ever after are the outcomes, it's usually a win-win for the newly wedded couple.
Keep reading to learn about many of the most awe-inspiring rituals from around the globe to give you an idea of the many traditions that go far beyond the bouquet toss.
12) Lebanese Tradition: Music and Dancing Before the Ceremony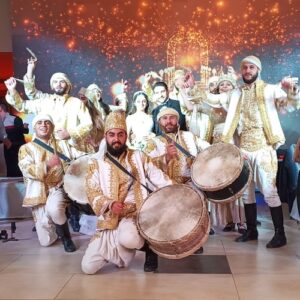 In Lebanon, the wedding celebration, known as the Zaffe, gets off to a rowdy start with music, belly dancing, and shouting at both the groom's and bride's homes courtesy of the couple's friends, family, and, occasionally, professional dancers and musicians. Eventually, everyone ends up at the bride's house, where the couple is showered with blessings and flower petals as they leave for the ceremony.
13) German Wedding Tradition: Polterabend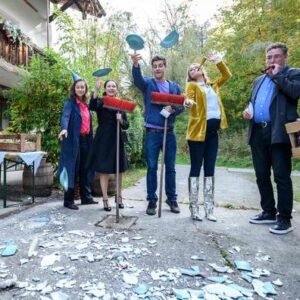 In their first bit of housekeeping together, German couples traditionally clean up piles of porcelain dishes that their guests have thrown on the ground to ward off any evil spirits. The lesson of this "Polterabend": While working together, the two partners can face any challenge thrown their way.
14) Norwegen Tradition: Kransekake
Ditch the white wedding cake and switch things up. It's typical at Norwegian weddings to serve a towering special-occasion cake called a "kransekake." It's made with iced almond cake rings to form a cone shape, and a wine bottle is often placed in its hollow centre.
15)
Czech Republic Wedding Ritual: Placing a Baby on the Couple's Bed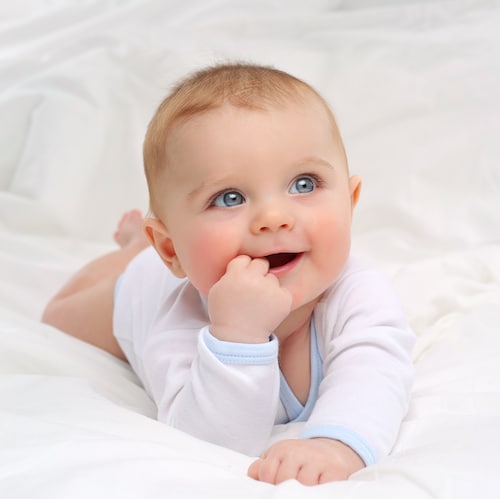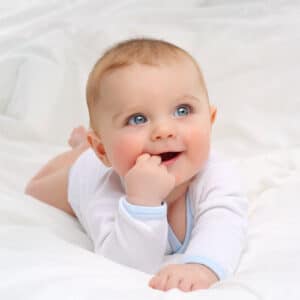 Before a Czech bride and groom tie the knot, an infant is placed on the couple's bed to bless and enhance their fertility. Once they've wed, guests shower them with rice, peas, or lentils—also to promote fertility.
16) Ukrainian Tradition: Karavay
Now this is a sweet tradition. Newly married Ukrainian couples share a wedding sweetbread called "karavay," decorated with wheat for prosperity and interlocking rings for faithfulness. Whoever takes the biggest bite—husband or wife—without using their hands is considered the head of the family.
17) Indian Wedding Tradition: Joota Chupai

On the day of the wedding, in a ritual called "Joota Chupai," an Indian bride's mischievous sisters and female cousins make off with the groom's shoes and demand ransom money for their safe return. That's one way to kick things up a notch!
18) Chinese Tradition: Wedding Door Games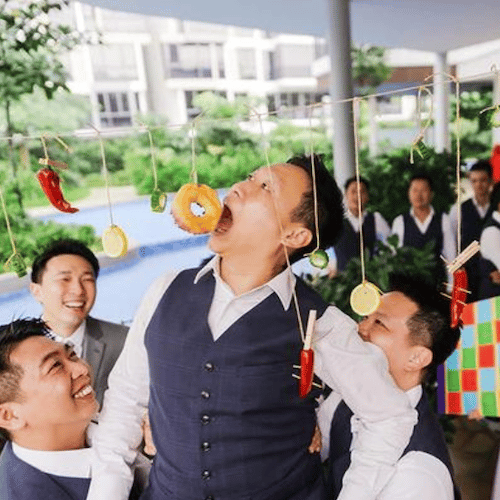 In this lighthearted tradition, Chinese bridesmaids give the groom a hard time on the morning of the wedding day by putting him (and sometimes his groomsmen) through a series of tests and challenges, called "wedding door games," to prove that he's worthy of the bride. Then, he must pay off the girls with envelopes full of money. That's what friends are for!
19) Wedding Tradition in Niger: Camel Dance
You've heard of the chicken dance, but in the West African country of Niger, the camel dance is done at the reception in the desert by a real camel. The humpback animal gets his groove on to a rhythmic drumbeat, all while surrounded by wedding guests.
20) Wedding Tradition in Philippines: Releasing White Doves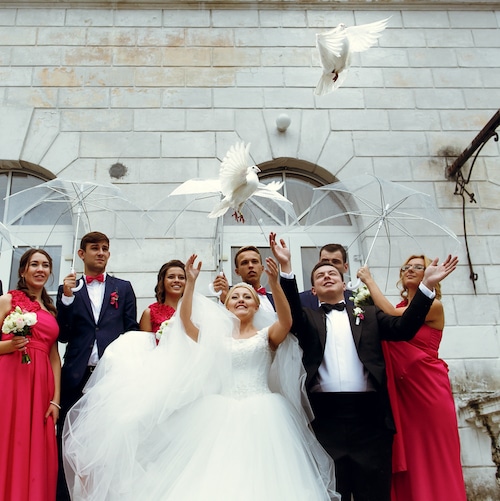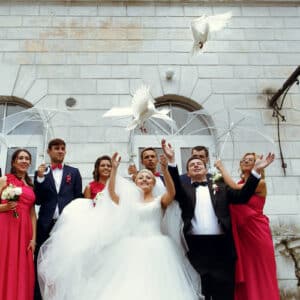 After tying the knot, happy brides and grooms in the Philippines release a pair of white doves—one male, one female in to the air. The birds are said to represent a harmonious life together for the newly married couple.
21) Cuban Wedding Custom: The Money Dance