So, what is a celebrant? A simple question with a not so simple answer.
Deciding who will help you present your ceremony can be problematic. Whilst the clergy, registrars, Celebrants and humanists may be familiar terms, until it comes to booking one, many couples will be in the dark about the differences between them.
A person who performs or officiates ceremonies, and whilst commonly seen at weddings they can also conduct other ceremonies like vow renewals, baby namings, funerals, interments and memorials.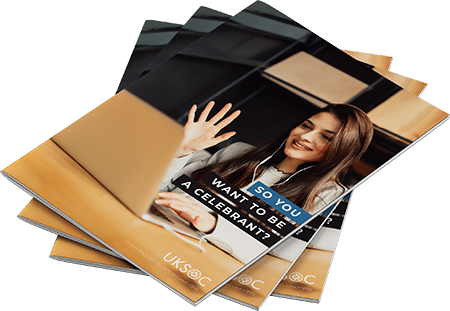 Download Our 2021 Celebrant Training Brochure
Please complete the form below and click submit to download our 2020 Celebrant Training Brochure.
Thank you.
Specialities
Broadly speaking celebrants fill three distinct functions:
A Funeral Celebrant
Constructs and leads a personalised life centred funeral ceremony based on the life of the person the ceremony is for. Information is gathered from the family of the person who has died to construct a life centred funeral. A non-religious ceremony is referred to by celebrants as a life centred ceremony.
Should a family choose to include any religious or spiritual wording, a prayer or a hymn these can be included. It is a common misconception that non-religious ceremonies are humanist.
UKSOC Funeral Celebrants are trained  to write and lead a cremation, burial, natural burial, interment,  scattering of ashes and memorial ceremony based on what the bereaved family want. It's all about them.
A Wedding Celebrant
Constructs and leads completely personalised weddings, commitment and renewal of vows ceremonies based on the choices and requirements of each couple. Couples who choose to have a celebrant wedding ceremony from a UKSOC Wedding Celebrant will receive a tailor made ceremony which puts them at the heart of the ceremony.  No scripts, no templated words, each one is unique. UKSOC Wedding Celebrants are trained to write and lead weddings, renewal of vows and commitment ceremonies. It's all about them.
A Family Celebrant
Does the same as a Wedding Celebrant and are involved with many other life ceremonies such as naming, adoption, family blending, divorce, and engagement ceremonies. It's all about them.
Who can be one?
Anybody who feels they possess the qualities required of a celebrant can embark upon celebrant training, however, successful completion of the chosen course determines if the candidate has what it takes to be a celebrant.
What does it take?
Age, gender, confidence, and life skills do not qualify as attributes. Determination, discretion, diplomacy, the ability to learn and to research information, being IT literate, good communication skills, confidence with public speaking and a professional manner are qualifying attributes.
Where can I train?
There are several providers of celebrant training in the UK. As with celebrancy, research is key. Look at what the other providers can offer you before choosing who to go with. Our training takes place at our training facility in Sheffield  or from the comfort of your own home via a distance learning option. More information on the various courses and training options.
Progressive Professional Celebrant Training