More information can be found on bespoke celebrant training courses with the United Kingdom Society of Celebrants here.
Celebrants, sometimes referred to as ceremony officiants are responsible for creating and performing ceremonies for all of life's events. Celebrancy is a growth occupation which requires many attributes including dedication, diplomacy, discretion and determination.
The second stage to becoming a celebrant (the first is making the decision) is to choose a training organisation which not only provides professional training, but one which matches your needs as a prospective celebrant candidate. With many training organisations offering celebrant training, choosing the right one for you is essential.
All organisations run courses covering family, wedding and funeral celebrancy and deciding which one you would like to train with should be based on many factors, including the course training options. More information can be found on celebrant training with the United Kingdom Society of Celebrants here.
About us
The United Kingdom Society of Celebrants is an established progressive and professional celebrant training organisation. We are the pioneers of distance learning within the UK, and creators of the original Celebrant Directory.
All of our celebrant tutors are experienced Civil Celebrants having conducted family, wedding and funeral ceremonies across the UK and beyond. All are experienced and qualified teaching professionals.
We have over 1,000 members worldwide, with over 80% of those within the British Isles (figures correct at time of publishing, Nov 2022) Our celebrants are from all walks of life, are varied in age, are based all across the English speaking world, many having different language skills which have aided clients during ceremonies.
Mentor support and guidance from the day you enrol.
Every celebrant remembers their first ceremony; nerves are expected, and your tutor goes on to become your mentor who is on hand to support you during and beyond your training. Mentor support continues throughout your membership with our society. Furthermore, members have access to a large, collaborative, active and supportive online Peer Group with hundreds of thousands of ceremonies experience.
Beverley Bulmer | Family & Funeral Celebrant
The whole training experience was thoroughly enjoyable, and I remember looking forward to completing the course and taking the next step in my new career. Which I have to say turned into a leap and one that I have not looked back from.
I am delighted that I chose the United Kingdom Society of Celebrants to undertake my training with and know that I am being held in the very best and most supportive hands (extending to arms at times) that I possibly could be.
Support from fellow members
The role of the celebrant involves working with others such as couples, families, wedding and funeral industry suppliers and professionals. Celebrants need to be team players who at times are required to go above and beyond minimum expectations of celebrancy.
As an independent celebrant we know it can be a solitary role, but independent does not mean each celebrant is without support. As well as mentor support we have a private Facebook group where all of our members can seek advice and support from each other. United Kingdom Society of Celebrants members do not see other members as competition, they believe in unity amongst fellow members.
Many members have formed friendships and small local and online groups working together to support each other in all roles of celebrancy. Our members certainly are a friendly, socialable supportive collective.
Learn how to market your business
After your training has ended learning how to market your new celebrant business is essential if you would like to be a successful celebrant. We offer additional marketing for celebrants courses which gives you the necessary information and help to start and develop your business.
Website design, logos and branding
We provide a facility for the provision of business tools for our members in partnership with Celebrant Media. Their graphic and web design team works with you to help you create, build and develop your business identity, as indeed they have done for many celebrants throughout the UK and beyond.
Why train with us?
With numerous celebrant training organisations to choose from, finding one which suits your needs is essential to becoming a celebrant. There is much more to choosing a training provider than the cost of the course or seeing photographs of groups of people smiling holding certificates.
Things to consider should include the course content, flexible, directed, focused, creative and vocational learning. Will the training course you choose give you the key skills required to enable you to become a confident, knowledgeable and successful celebrant? Has the training provider been recommended by a celebrant who has experienced one of the courses on offer? If so, what was their experience of the training?
Before you make your choice, research is key to your choice of training provider. Here are some testimonials from our members who are all successful and busy celebrants. Should you prefer to talk to one of our members about their training experience, they will be happy to talk to you if contacted.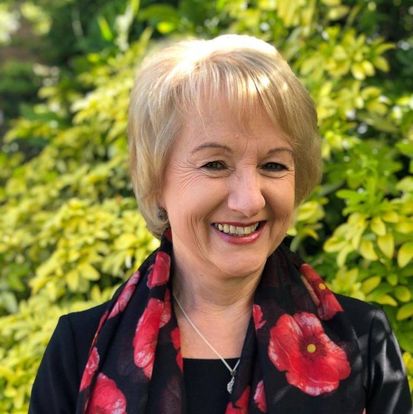 Lesle Coppen | Family & Funeral Celebrant
After completing some research on various celebrant training courses I decided to register with the UKSOC as I was impressed with the high standards and professionalism.
I completed my Family training first and then decided to add on the Funeral Course. The training was very structured and allowed me to have a visible timeline of approximately how long the courses would take to complete.
The trainer is with you every step of the way and not just during tutorials. A qualified Celebrant will eventually have to stand alone, but the ongoing support that is given is vital for the many questions and queries that arise as each ceremony performed is unique. The UKSOC team of both Tutors and Celebrants are always there to help.