Lara Norris is a Family and Funeral Celebrant based in France.
Bonjour! My name is Lara and I am a Family and Funeral Celebrant based in France. I specialise in bespoke personal weddings, funerals and memorial ceremonies. I live in rural Normandy with my alpacas, kittens and chickens. Not to forget my wonderful Husband Paul who I married right here in France.
I come from an enormous and close family. You can be sure that I have been to more than my fair share of weddings and funerals (not to mention christenings and other events)
Frankly, they just seemed to be the same. Something you had to get through to 'qualify' for the party afterwards. Two remarkable celebrants convinced me that this did not have to be the case and that is why I am a family and funeral celebrant today.
A celebrant should allow you to have a ceremony that means something to you. A ceremony that is right for your family. A wedding that reflects who you are as a couple. A funeral that truly celebrates the life and the character of the person you loved.
I only want to perform ceremonies that are as individual and special as 'the dress', the flowers, the venue and you. You deserve nothing less.
I have had an amazing career working for over 25 years in community and politics.  I had the challenge of leading charities through difficult times and the honour of working in the UK Parliament. Now however, I realise that as well as being rewarding these experiences were also a giant training course, helping to make me a better celebrant.
I know the importance of attention to detail. Working in Parliament meant working to the highest standard all of the time. I believe that if a job is worth doing, it is worth doing to the best of your abilities. I only strive for excellence and never accept mediocre.
I have helped organise hundreds of events including a garden party for a Prime Minister, an international celebration of the life of a radio hero and a christmas party for over 100 children and their families.  Whatever the event, whoever it is for, having excellent organisational skills makes it special.
Some of most rewarding moments have been supporting families, especially with the wonderful charity Home-Start. Really listening to what people need and want, helping them, through hard times means I not only listen, but hear you.
A big part of my career has been about being creative.  Trying new things and not being afraid to be different. I love bringing that creativity to celebrancy and making every celebration different and special, and sometimes quirky.
Whether it is a wedding, a funeral, or any other civil ceremony, I care about it. I work closely with you so that on the day you know what to expect and know that it is unique to you.
I am based in Normandy, close to the neighbouring Brittany and the Loire. I work with a team in the UK (AltarNatives, all UKSOC members) so all French ceremonies have a UK based contact. If needed I am able to liaise with your French venue and suppliers, ensuring everything is ready for your big day.
Wedding Celebrancy:
I provide a bespoke service produced uniquely for you. I am able to incorporate many elements into the ceremony such as hand fasting, candle ceremony, and most appropriately for France the wine ceremony (amongst many others). It has been known for me to create a totally new ceremony if it fits the wedding (see the Gin and Tonic ceremony!)
Funeral Celebrancy and Memorials:
In France funerals happen very quickly and it can feel quite rushed. I therefore offer not only a funeral service at short notice in postal areas 61 and 53 but also memorial celebrancy across a wider area in North and mid France..
This means that if you live in France, or want your loved one to have a remembrance service in a place that was special to them in France, I can write and perform that ceremony with time to gather your loved ones.
Life Events:
I believe there are many times in our life that we should mark with a ceremony. Whatever your occasion or event, I will work with you to design, develop and deliver a worthy, unique and memorable ceremony
So why choose me? I think the most important thing is that you get the right celebrant. Someone you can work alongside because these are some of the most important days of your life.
I work with a wonderful small team, the AltarNatives (check out Paul Standbrook and Sam Edmundson also on UKSOC) Take your time to check us out or give us a call. You can decide if we fit you.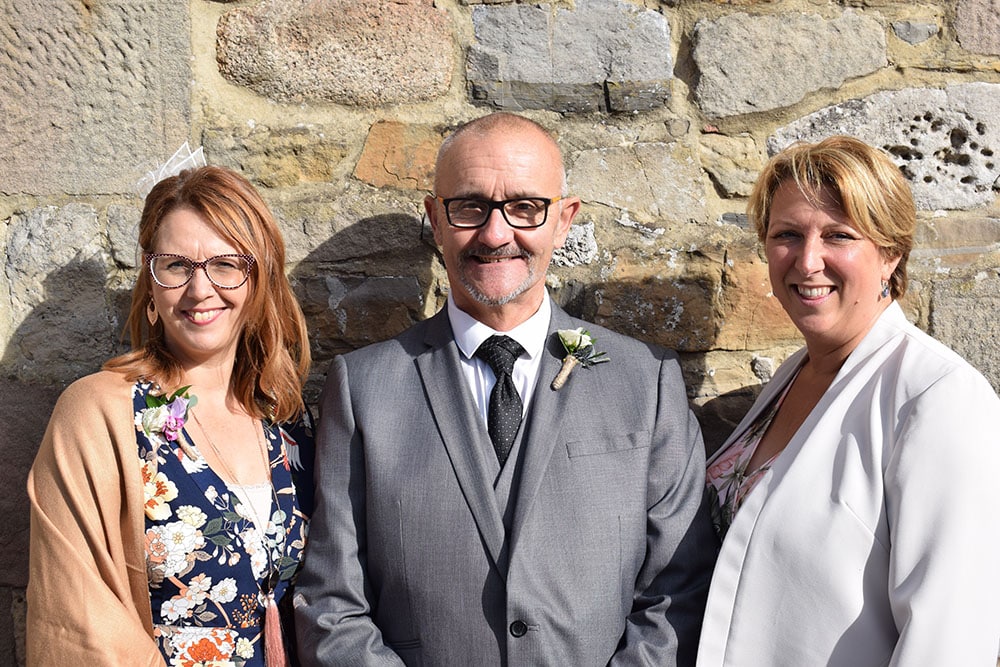 I leave the final word to others…….
" Lara is a people pleaser in the best possible way" - Jamie S"
"Lara was our wedding celebrant and I can't rate her highly enough. She was so supportive throughout the planning, she really listened to what we wanted, provided us with a beautiful ceremony and helped enormously throughout the day.
The ceremony was personal, funny, unusual and really fitted our wedding and us as a couple. Lara provided us with some brilliant ideas which made it really special. We have had so many compliments from our guests. Sarah - Bride
"Lara I can't thank you enough for everything. Everyone said how great you were"-  Lisa