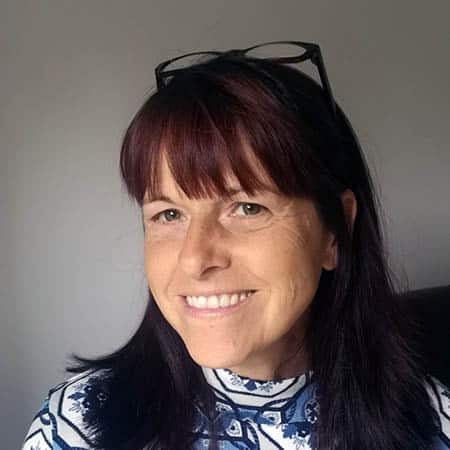 Celebrant Services Offered
Ceremony Script Writing
Naming Ceremonies
Wedding Ceremonies
Civil Partnership Ceremonies
Renewal of Vows Ceremonies
Funeral Ceremonies
Memorials
Celebrant Tutor
Wedding and Funeral Celebrant in Surrey
I love nature and walking in the beautiful Surrey Hills where I live with my husband, two kids and rescue dog. I'm currently looking forward to re-homing some rescue hens too which makes me very happy! Listening to the sounds of the birds and spotting deer and other wildlife whilst out on my walks really brings me joy! When not out walking, my other love is the theatre: watching, directing and acting.
My route to becoming a celebrant began a few years ago when I attended a number of ceremonies led by celebrants. Some were very moving and heartfelt, reflecting the life of those celebrated while others left me cold. After investigation, the difference seemed to be the amount of quality time the celebrant had spent with the families beforehand – whether they had really been able to find out about the people involved in the ceremony.
Before becoming a celebrant, I was a practicing HCPC therapist and fully recognised the value of marking precious moments in life. It upset me to think that people celebrating extremely important occasions in their lives might not receive a carefully thought-through and orchestrated ceremony. Milestones are psychologically significant and need to be handled with particular care and attention.
I made up my mind to train to be a family and funeral celebrant to ensure that at least the ceremonies I created would be a true reflection of the people involved and be delivered in a meaningful way. The skills I had gained as a therapist seemed instantly transferable to being a celebrant and my creative, artistic streak lent itself to crafting unique ceremonies which are tailored for each individual person.
In each ceremony, your life stories are retold, and shaped after careful consultation with you and your family. This ensures that the ceremony perfectly reflects you or your loved one.
As a UKSOC trained celebrant I am able to offer you the full range of celebrant services - Weddings, Civil Ceremonies, Vow Renewals, Naming Ceremonies and Script Writing Services as well as Funerals, Memorials and Remembrance Services. If you have other ideas or something else you would like to celebrate, this can be accommodated too. Just give me a call and we can have a chat about your ideas.
Following a face to face consultation with you, your ceremony will be developed into what you want. You can take a step back, safe in the knowledge that what you will get from me is a professional, completely bespoke ceremony, which those who attend will remember for years to come. Each ceremony is created to wholly represent the person/s for whom it is designed. If you would like to talk through some of your ideas or just seek advice on a ceremony you are planning, please call for a no-obligation chat.
Why Hummingbird Celebrant?
The hummingbird is a unique little creature with amazing abilities to fly backwards and forwards – to dart at speed in all directions - to hover in absolute stillness whilst its little wings beat so fast as to be barely perceptible. In truth, the motion of their wings are making the shape of the infinity symbol at 80 beats per second!
Hummingbirds are seen to be bringers of love and joy with an ability to remain adaptable. They seek out the good in life with tenacity and endurance, while at the heart of everything the symbolism of the infinity figure represents harmony and balance along with eternity and continuity.
The amazing abilities of this little bird are symbolically present in all the services offered to you in your ceremony!
Thanks for reading and please feel free to contact me to discuss your ceremony in more detail.