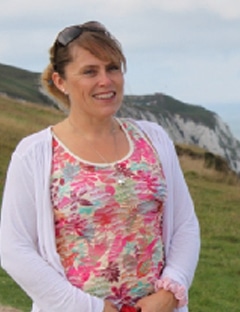 Celebrant Services Offered
Ceremony Script Writing
Naming Ceremonies
Wedding Ceremonies
Civil Partnership Ceremonies
Renewal of Vows Ceremonies
Funeral Ceremonies
Memorials
Contact information
07872 342 471
My name is Michelle King and I am 42 years old. I have two children Mia aged 12 and Dea aged 10. We live in Emsworth in Hampshire which is by the coast so we often enjoy seaside walks with our dog Willow. I have a lot of energy and a bubbly personality. I was bought up in Middlesex and moved to Hampshire about eight years ago. I am a Nursery Nurse by trade and have worked in various childcare settings over the years.
I was a Manager of a Day Nursery for five years and then moved into working with children with severe learning difficulties until I had my own children at the age of 30. This was a challenging role but came with great satisfaction at the end of each day and an opportunity to use my creative skills through music, stories and art. I am also now a qualified Reflexologist. I have many hobbies which include reading, D.I.Y, art, spending time with friends and a love of being outside.
Both my children are keen runners and we are all members of Portsmouth Athletics club and compete in cross country events in the winter months and track events in the summer. Over the past year I have set some personal running goals and in October this year I completed my first Half Marathon in 1hour 47min.This was a great achievement and in the process managed to raise money for a local children's charity and Brain Tumour research.
Since my children have been young, I have engaged in a lot of voluntary work and I ran the local music group for preschool aged children, Rainbows and Brownies and I have also completed training so I can help supervise Duke of Edinburgh expeditions at my daughter's school. I have also done a lot of work for local charities and helped to organise our local Horticultural show.
Now both my children are in full time education I have been taking time out to look at my future and work objectives. I became interested in becoming a celebrant a few years ago after organising my own wedding and my sister's funeral and have been exploring the different routes into gaining experience and a recognised qualification to carry out this role.
I was married myself four years ago, engaging a celebrant to conduct the service and achieved my goal of planning a service that was fun, involved my family and children and was inclusive of all the guests. The celebrant played an important part in liaising with me, offering ideas about the service and delivering it on the day. My sister had a natural burial service three years ago, led by myself and although it was a difficult and emotional time I found a great sense of satisfaction and comfort in putting together a service that I know she would have loved, which involved family, friends and work colleagues.
I was told by many of the guests "it was one of the best funerals they had attended, was compassionate and sensitive but left them leaving almost celebrating my sister's life and knowing a little bit more about her". I feel my personality and knowledge of various life experiences will help me to guide others through their services and provide them with similar memories that I will cherish forever.
Email Michelle: