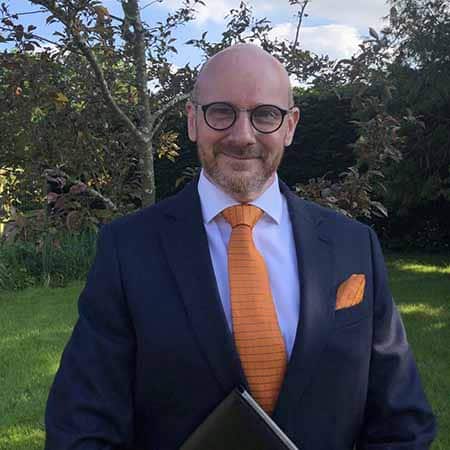 Celebrant Services Offered
Ceremony Script Writing
Naming Ceremonies
Wedding Ceremonies
Civil Partnership Ceremonies
Renewal of Vows Ceremonies
Funeral Ceremonies
Memorials
Wedding and Funeral Celebrant in Kent
Originally from Lancashire, I have been resident in the South of England for most of my adult life. I began life as a draughtsman in a large engineering company, but soon decided that I wanted a job with more interaction with people and a dynamic and changing work environment. To do that, I needed to retrain. I became a graduate in English by the time I had reached my mid twenties.
I have lived and worked in Kent for nearly thirty years. As a teacher for almost three decades, I have been an educator, a pastoral leader and a manager of various teams. I have been a senior leader in several schools and taught English, drama, and philosophy. Now in my early fifties, I decided that my skills in helping people to find their potential and guiding individuals through difficult or challenging situations were the tools that would help me to help others at the turning points in their lives. As a trained and qualified member of UKSOC - United Kingdom Society of Celebrants, I wanted to be able to design and deliver engaging, exciting and compassionate ceremonies.
My passion outside teaching has been acting and the experience of performance on various stages and to a variety of audiences has meant that the need for a sincere and calm delivery of ceremonies and the ability to adapt to each client's unique demands, is one that I find most fulfilling. I have acted and directed in all manner of productions, from Shakespeare to pantomime. The self confidence to perform and engage an audience is why I knew I could be a successful celebrant.
As a professional celebrant, I feel that I am using my wealth of life experience to help people make the important moments in their lives ones where the warmth and love they bring is always reflected truthfully and faithfully.
Album Amicorum was the name I picked for my business because it originates from a Latin phrase used to describe a pastime from the Middle Ages that seemed to sum up what a celebrant should really be trying to achieve. The name literally translates to, 'book of friends'. Originally it would have had entries with pictures, drawings, poems, anecdotes, or even just signatures from the various friends and relatives that were important to its owner. It would be compiled over many years and at various points when its owner felt that a significant event could be recorded.
The celebrant equivalent is that desire to recapture or re-frame memories or to connect individuals, couples or families to others. When telling the story of those committing themselves to each other, or that of someone who has been lost to a family, it is the metaphorical book of friends, or friendship that we reach for. I want my ceremonies to have friendship at their heart. I want the ceremony to feel that it celebrates the friendships that bind us and the stories that unite us.
All the elements that I want to bring to ceremonies are those that draw people together and that put the occasion that has assembled them in the context of their own lives. Ceremony and ritual are at the core of who we are as human beings and only through those things do we actually achieve a true sense of who we are and our place in the world. Only by the telling of those stories, the oral recreation of the album amicorum are we able to see the value of the connections we make in life. My aim is to create a sense of that book of friendship in every ceremony.