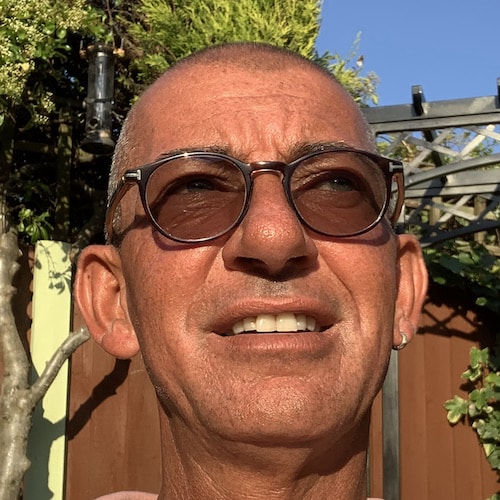 Celebrant Services Offered
Ceremony Script Writing
Funeral Ceremonies
Memorials
Interments
Scattering of Ashes
Funeral Celebrant in Staffordshire, Cheshire & Lancashire
My name is Shaun Davies. I was born in Stoke on Trent and have stayed local, now living in Newcastle-under-Lyme. My wife, Jayne, and I married in 1992, and since then we have spent a lot of the time working hard, but also travelling around the Globe visiting other countries and taking in different Cultures.
We have two dogs, both Labradoodles, who love walking with us in the Staffordshire countryside or by the coast at our second home in Lytham-St-Annes.
I am always up for a bit of DIY and used to love to go to the Gym.  A number of years ago I fell and had a major operation of my leg.  The procedure failed which meant I had to reign things in a bit.  I now walk with a cane.  It is testament to my positive outlook that this does not prevent me from enjoying life.... Turn a Negative into a Positive.
I am a very caring person, my friends say that I am a good listener, bringing calmness to them when they need it most, Offering comfort and sage advice.
So, why did I decide to become a Civil Celebrant?
Like  most people I've been to Funerals.  Some have been uplifting, some have simply been a roll call of dates and names, quite 'cold'.  The seed was planted many years ago, my Great Aunts celebrant lead funeral was, well, amazing!  How can a funeral be amazing, after all someone you loved had died. we all came away from my Aunts funeral uplifted.  Yes there was sadness that she was no longer with us, but overwhelmingly there was a feeling of joy that we had known her and laughter about the things that had happened in her life.  A feeling of total completeness.
I was only in my late 20's, but that day is still fresh in my mind, the music and the stories.  I've been to many funerals since, but honestly, I can't remember much about them.
So in my 50th year on this planet, here I am – A Celebrant.
Alluminatra
Why Alluminatra – it's a made up word, I think it resonates towards 'light'.
But within it's a mix of other words, with a deep meaning, with an extra letter, just because.
Allumin – Aluminium is found in rocks, part of Earth.  It has a strong affinity to Oxygen, the Air that we breathe.  On its own its one of the weakest metals, soft and pliable.  It needs other elements to make it strong.
Atra – Is made in the human body from Vitamin A, it helps cells grow and develop to be re-born.
Alluminatra: Earth-Air-Support-Growth
These four elements relate to us, you and me.
We are all born to live here on earth, breathing the air that is all around us.  We need support from others at various times in our live to make us stronger, yet still remaining pliable enough to be ourselves – growing each day.
When a person dies, we all need extra support, I am here to give you that support at one of the most difficult of times, the death of a loved one.  Let me help you to return your loved one back to mother nature, to start all over again – The circle of life, Alluminatra.
Let me help and guide you in giving your loved one their last gift, a fitting, personal and bespoke funeral ceremony.  A true Celebration of life.  One that in years to come you can look back on with fond memories and pride.
Together we can choose all aspects of the Ceremony, maybe a favourite poem or a piece of music that inspires and evokes fabulous memories.  Maybe you would prefer a themed funeral, as your Funeral Celebrant it would be my honour to create a special and perfect ceremony for you all.
Although no one wishes to die, we all know that death is part of life.  Traditionally death was a subject that nobody talked about, nowadays that has changed.  People are more and more open about it, sometimes arranging their own funeral.  If this is something you would like to consider then please contact me.  What can be more personal than a ceremony that you, yourself, have arranged.
There are also times when, perhaps due to limitations on numbers at certain funeral venues, or to mark a special anniversary or simply because the original funeral did not reflect in the way you had hoped.  A Memorial Ceremony can re-ignite the happy times.  A true celebration of your loved one's life.  These can be held a venue of your choice, even at home in the garden.  Please get in touch for further details.
I am based in Newcastle Under Lyme, Staffordshire covering Staffordshire and Cheshire East.  I also have an office in Lytham St Annes, Lancashire.