Celebrant Services Offered
Ceremony Script Writing
Funeral Ceremonies
Memorial Ceremonies
Interments
Naming Ceremonies
Wedding Ceremonies
Civil Partnership Ceremonies
Renewal of Vows Ceremonies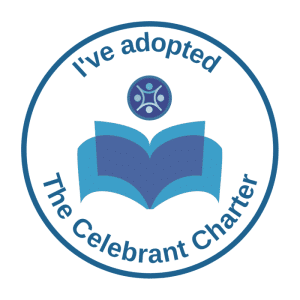 Wedding and Funeral Celebrant in Northern Ireland
My name is Tracy, a family, wedding and funeral celebrant in Northern Ireland. I was raised in Holywood, Co. Down but now reside in Co. Antrim with my husband, two children and Bazil, my crazy dachshund.
I decided to become a family celebrant as I appreciated hearing about the change of ideas on how to have a celebration in more interesting and exciting venues. I welcomed the change and with the collaboration of my skills from previous employment roles in the working world, I knew this line of work was what I was looking for.
My background is in the airline industry and at present I am now a part time lecturer for special needs adults in further education. I am also a qualified yoga instructor, teaching in my local town.
I have a passion for promoting inclusion to all and welcome changes for disabilities and love to be able to reach out and help others.
My organisational skills, my teaching skills and my charismatic personality has therefore led me to my new role. I love to meet new people, learn from them and educate onwards from my findings of life.
To officiate at weddings, vow renewals and naming ceremonies will allow me the opportunity to provide my clients with the creation of a bespoke ceremony, tailored, created and presented in a dynamic and meticulous style. My aim will be to make the ceremony as unique as they would like it to be and allow the precious memory of their day be carried with them through their journey in life.
Knowing when to blend in and knowing when to stand out will be my focus in all my work, reaching out, to lend my skills for your happy times.