If you are looking for an alternative or an addition to Unity Candle / Sand Ceremonies that engage every wedding guest – this could be for you.
Prior to the "procession" the wedding celebrant makes that announcement that the "Wedding Ring – Warming Ritual" is to take place and gives appropriate instructions.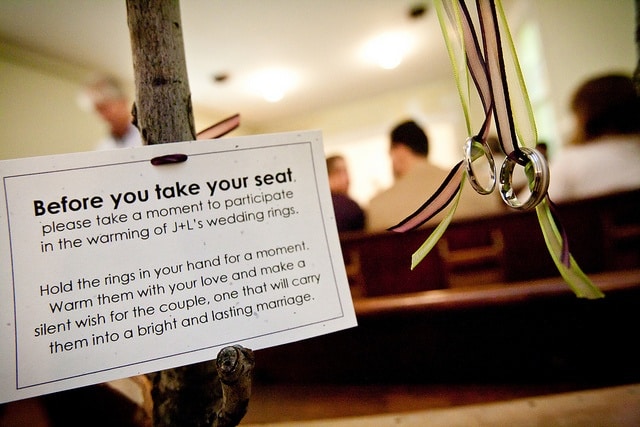 The wedding celebrant or best man then places the wedding rings in a small velvet pouch with a drawstring (or ties them to a small cushion). The rings will then be given to one of the guests with the instructions to hold the pouch with both hands for a few seconds whilst passing on their good thoughts and best wishes to the "intended couple" – this guest will then pass the pouch to the next guest and so on – until all the guests have done the same – the Best Man / Wedding Celebrant or Ring Bearers will take the wedding rings from the last guest and present them to the intended couple for the exchange of rings.
Obviously, there are limitations to a ring warming: it wouldn't work well for super large weddings, and if you're having a big wedding you may want to have someone watching the progress of the rings and keeping them moving in a timely manner through your guests.
This is one great way to engage those people assembled and make them feel an integral part of the days proceedings. Obviously , there are many ways that the above can be achieved, but the "symbolism" of this action is clear for all to see.
Next time – "The Naming Ribbon Ritual"