Wedding Celebrants are gaining somewhat of a reputation for introducing "special elements" to their clients wedding ceremonies.
One such element, gaining in popularity, is using "birds of prey" to be the ring bearers. Sounds fantastic, does it not? Maybe – but beware – you must choose your falconers / handlers / service providers with care.
No matter how well intentioned the service provider is, they are trying to control a wild predatory animal. On more than one occasion I was the wedding celebrant at ceremonies where these beautiful "winged bearers" were used.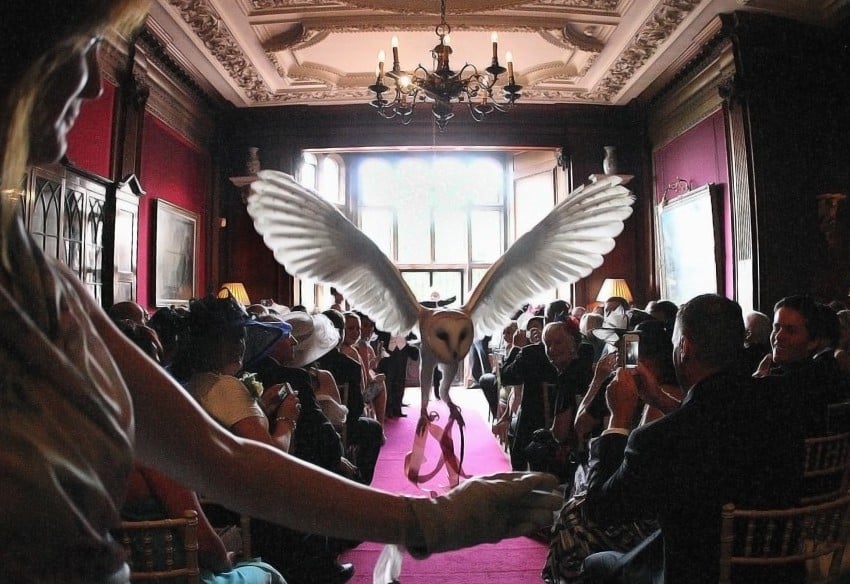 Only 3 from 5 went without a hitch – in the other two one owl decided to fly up to the rafters of the barn where the ceremony was being held and rest up (for a few hours) the other, at an outdoor ceremony, landed as planned but flew off before the rings could be removed or indeed before he could be tethered – it appears the owl successfully managed to have his lunch in the process. At least everyone could see the funny side despite their obvious disappointment.
Fortunately, I was prepared by having 2 brass rings about my person so that the ceremony could still continue. You know what they say about working with children and animals?
That said one of my clients had an eagle owl deliver their rings – as the celebrant, I had the best view of all – what an impressive wonderful sight – the owl looked like he/she could have picked up the bride and groom.
The moral of this story is to do all you can to ensure that the chosen falconer has been recommended, has a good track record (testimonials) , carry Public Liability insurance and are registered with DEFRA.