Congratulations on getting engaged! By now, you are probably spending much of your free time thinking about all the things you must do before your big day and your mind will be spinning. Thoughts of wedding invitations and food choices for the reception. But before you even begin to deal with those details about your wedding, you need to decide one of the most important things about it: who is going to perform the ceremony? It's an easy question to overlook, as you may have already assumed that a priest or registrar will fulfil that role. However, there are a number of other options if you don't want to go down the traditional route.
You've already heard of priests and registrars, but what about wedding celebrants? Perhaps you are unsure about exactly what they are. There are several different types of wedding celebrant to choose from, including Independent, Civil or Humanist Celebrants.
So, before you make any final decisions, take a look at what a wedding celebrant is, and what they can help you do with your wedding.
How does a wedding celebrant differ from other officiants?
Simply put, a wedding celebrant is a person who performs and officiates formal wedding ceremonies. They can also conduct other related ceremonies like vow renewals, baby naming, commitment and divorce ceremonies.
What's the difference between a wedding celebrant and a priest?
The biggest difference is that a priest is a member of the clergy whereas a celebrant is not. As such, a celebrant can create a bespoke wedding for you, tailored to your own specified themes and concepts as they are not bound by the religious conventions and rites of any faith.
However, there are similarities between the two. A wedding celebrant will be involved with the entire planning process of the ceremony and will establish a detailed knowledge of you as a couple during the preparation period. However, a wedding celebrant does not have to follow the strict rules of any religion.
What's the difference between a wedding celebrant and a registrar?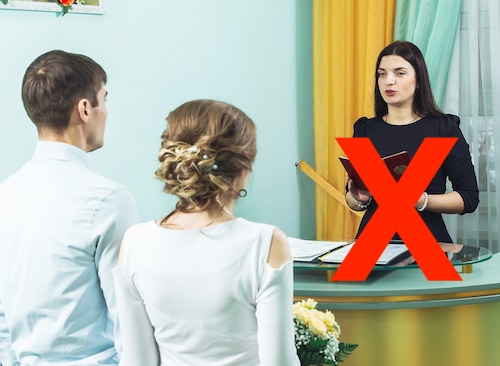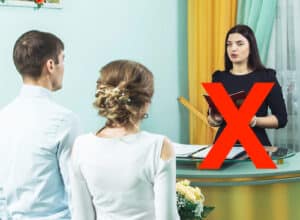 The law allows registrars to officiate a marriage via civil ceremony, meaning that the ceremony is purely secular, with no religious attachment at all. The registrar is then in charge of processing and approving the couple's marriage licence, with the wedding ceremony acting as a formality after the legalities are taken care of.
A wedding celebrant can assist and guide the couple in completing the necessary requirements for the marriage licence, although they do not currently have the authority to approve it ( watch this space!). However, celebrants can offer much more guidance in terms of planning, and can perform a personalised ceremony for you and your guests.
Are celebrant led wedding ceremonies legal?
This can be a confusing issue for a lot of people. The main thing to remember is that, whether you have a marriage licence and signed marriage certificate or not, your wedding ceremony can still take place. A marriage is the legal bit – A wedding is ceremonial. It's not actually the ceremony that makes the wedding legal. some couples are already legally married before the ceremony begins and use the wedding rites as more of a celebratory event than anything else. After all, there's no rule that the marriage certificate must be signed after the ceremony, that can happen before the main event. In this sense, it doesn't matter if the person officiating your wedding is not a member of the clergy or the civil office.
What does matter is having the perfect day that you will always remember for all the right reasons. A wedding celebrant will work with you on every last detail to ensure this is the case.
Why should you use wedding celebrants?
There are a few reasons why a wedding celebrant may be a better fit for you and your wedding ceremony than a priest or registrar:
Wedding celebrants do more than just preside over the ceremony. With a wedding celebrant, you get the full care package. While priests just perform the mass and the registrar is more interested in the legal side of things, wedding celebrants, (if you want them to), will stay by your side from the moment the engagement is announced until the moment you depart for your honeymoon after the reception. They become an essential part of the whole process and you'll wonder how you could have managed without them!
Wedding celebrants are the best option for couples who think traditional wedding structures are not for them. Many couples don't want their important day being constrained by the specific religious and legal structures that priests and registrars have to follow. Wedding celebrants have much more freedom to structure events from start to finish, meaning you have more of a say over what you want to include and exclude in the ceremony.
Celebrants are more versatile. A celebrant will go along with your exact wishes for your wedding, and if that means a fantasy-themed wedding with costumes, they will be more than happy to join in 'in character' if you wish them to. Priests and registrars are required to refuse anything that deviates from tradition or normal procedures, but celebrants are free to make sure that your special day is just how you want it to be.
With celebrants, the event is centred around the two of you. Just like your partnership, your wedding should be unique to you as a couple. The only parameters your celebrant needs to stick to are the ones that you decide.
The days where each wedding followed the handbook and were more or less identical are long gone. A wedding celebrant will not just make sure that your wedding runs like clockwork, from the paperwork to the actual ceremony, they will help create an experience that will be imprinted on the memories of you and your guests for a lifetime.
If you want to discover a wedding celebrant for your big day have a look at the original Celebrant Directory.