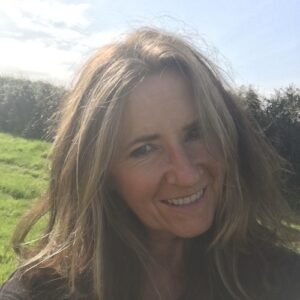 Celebrant Services Offered
Ceremony Script Writing
Naming Ceremonies
Wedding Ceremonies
Civil Partnership Ceremonies
Renewal of Vows Ceremonies
Funeral Ceremonies
Memorials


Wedding and Funeral Celebrant in Devon
My name is Linda Bond and I am your Wedding and Funeral Celebrant in Devon in the South West of England.
I live just near the coast in beautiful North Devon, close to our three grown up children and one grandchild. I am really fortunate to live in a location that allows me to enjoy what I love to best, trail running, walking and swimming are just a few. Its such a bonus that my spaniel enjoys the outdoor lifestyle.
In my career as a social worker, a lecturer and an inspector I have met and worked with so many different characters and personalities, we are all very different. I have experienced some difficult and challenging times and whilst difficult, they have left me feeling privileged and humbled.
Our values, views, opinions and choices differ enormously. But we have in common a need to be treated non-judgmentally and without discrimination or prejudice. I proudly embrace diversity.
So, should you choose to call me to see if I can provide you with a bespoke customised service. I promise you, that whether you are experiencing either a sad or happy event, I will help you make it your event. I'll help you celebrate, have fun, laugh and smile, and I'll help you remember, cherish and say your goodbyes however hard they may be.
Whatever, and however you want it said, I'll make sure its heard.
My services include weddings, commitment, vow renewals and naming ceremonies, all of which can include special elements. I find it always an honour to be part of someone's special day and no two ceremonies are the same, your ceremony will be yours alone completely created personally for you.
As a Family Celebrant I offer a range of services that are tailored to you.
Your wedding ceremony will include a home visit (distance dependant), telephone / skype contact with you, a draft ceremony for checking, order of ceremony agreed, friendly support, liaison with your venue, walk through prior to ceremony, professional delivery of your ceremony in the venue of your choice, and your own keepsake written copy of your ceremony. I also include a ceremony certificate that will be signed by yourselves and up to two witnesses.
My aim is to provide you with the perfect day that you can look back on with a smile, and fond memories that will last you a lifetime.
I will be there for you from the beginning of your journey, and I will take you through the process from start to finish, learn about your wishes and expectations, and aim to exceed them from there.
I will then create the framework that shapes your ceremony, using your stories and feelings, and finding or even writing readings that will bolster what you are wanting to convey.
During our initial meeting, we can discuss all the carefully crafted elements I can provide for your ceremony. Some are steeped in tradition, such as the popular Celtic tradition of handfasting, and some can even be designed specifically by us to really let your personalities and interests shine through in a way that your guests will remember forever.
You are all unique. You will have hopes and plans for your special day and it's up to me to help them come alive. But be sure that we will have fun bringing your dreams alive.